Visionmaster LCD Video Wall Systems for Control Rooms
The absence of adequate floor space in modern control rooms make LCD videowall displays preferable to the deeper DLP projection cubes that were the standard for many years. Although these flat panel displays can be mounted on the wall to minimize their footprint, Americon's Visionmaster freestanding cabinet for LCD videowall displays are gaining popularity because of other advantages.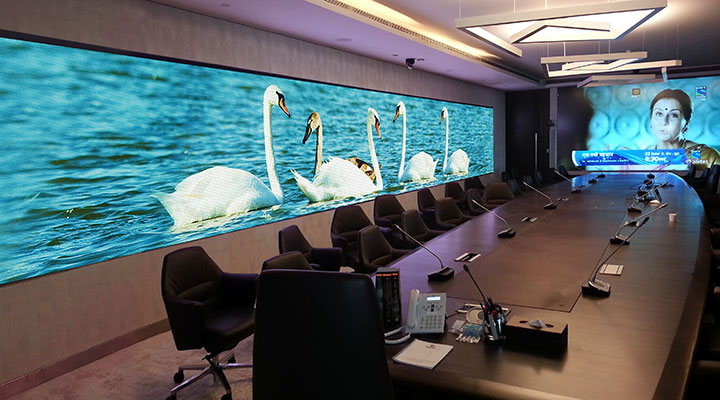 While there are several modular videowall systems on the market, the Visionmaster LCD video wall stands out with its versatility and unique features designed for security monitoring, military, process control, emergency operations LED Video Walls, and network monitoring applications.
Here are a few key attributes of Americon Visionmaster LCD videowall systems that make them the right choice for both large and small control rooms as well as emergency operations centers:
Self-contained and free standing in 12″ deep custom cabinetry that conceals the equipment and cables while allowing easy access from both the front and backside. Choose from 'thin' or 'ultra thin' bezel commercial LCD displays with LED back lighting depending on your application and budget.
Modular design that shifts the weight of the displays from the wall to the floor. This is important when the control room is in a commercial building where the walls are not capable of supporting the weight of large wall-mounted displays. If operating in an earthquake-prone zone, the Visionmaster LCD videowall cabinet is easily attached to the wall preventing the cabinet and its components from falling forward.
Expandable depending on wall space and ceiling height. These LCD videowall systems grow as requirements grow and can be easily relocated without having to renovate the space.
Modern video wall controllers that allow the operator to place and size a wide range of high definition sources like TV and computers anywhere on the videowall. Pre-loaded Windows software and supporting peripherals such as wireless keyboard and mouse and optional touch panel control system.
Integrated sound system with speakers and audio controller built into the base. Freestanding video wall systems are complete systems that include displays, supporting electronics, storage space, racks and high-quality cabinetry that can be brought in the room and put into operation with training done the same day.
As important, the Americon Visionmaster LCD videowall is a product that has been carefully designed for easy installation and operation as well as easy maintenance. The installation and training procedures take no more than one day in most cases and the price is commensurate to wall mounted videowalls. Americon Visionmaster video wall display systems are more flexible than wall mounted versions and are surprisingly economical.
People are more productive and happier in a modern and safe environment designed with their individual needs in mind. Jerry Herrington, Senior Project Consultant with Americon will help in choosing visionmaster video wall systems used in control rooms and command centers for controlling and managing information. Check out online for right LCD video wall screens, dispatch console and free needs analysis, space planning and cost estimate.